News
17.03.2021




Liebe Studierende,

The results of the re-exam are now visible on your personal status page. The threshold for passing the re-exam is 45 of 90 points (just as for the final exam). Furthermore, the dCMS shows the updated final course grade which is calculated as... Read more

Liebe Studierende,

The results of the re-exam are now visible on your personal status page. The threshold for passing the re-exam is 45 of 90 points (just as for the final exam). Furthermore, the dCMS shows the updated final course grade which is calculated as the weighted sum of your best exam (final or re-exam; 70%) and your project 3 (30%) results.

You will have the opportunity to inspect your exam. This will take place in person on campus, respecting the strict Corona Pandemic rules of Saarland University. The morning of Wednesday, March 31 is reserved for this. Please write a message to the @Assistants swiftly (i.e. before March 27) in case you want to inspect your exam. We will then make an individual appointment with you.

Viele Grüße
Euer Space Team

16.02.2021




Liebe Studierende,

in two days, on Thursday, 18th February, we will write the re-exam as announced.

Please refer to the information in the forum.

In particular, please make sure you are aware that the exam will take place in E1 3, HS 001 and that you know... Read more

Liebe Studierende,

in two days, on Thursday, 18th February, we will write the re-exam as announced.

Please refer to the information in the forum.

In particular, please make sure you are aware that the exam will take place in E1 3, HS 001 and that you know your seat. You will find it on your personal status page. Please be at the lecture hall at 09:55.

Further, note that it is necessary for you to bring your medical mouth-nose protection mask (i.e. surgical mask or FFP2/KN95/N95 mask) with you. Wearing a face mask is mandatory on university premises. Medical mouth-nose protections have to be worn inside the buildings and during the entire duration of the exam, this includes all waiting situations before entering the room as well as entering and leaving the room.

We would also like to remind you again of the health questionnaire:

Did you have confirmed contact with a person that has tested positive for COVID-19 within the last 14 days?
Do you have any of the following symptoms?

Cough / Husten
Sore throat / Halsschmerzen
Nasal congestion / runny nose / Schnupfen
Diarrhoea / Durchfall
Fever / Fieber
Aches and pains / Gliederschmerzen
Loss of smell (e.g. no longer able to smell burnt food) / Geruchsverlust
Loss of taste (e.g. unable to distinguish when food is burnt) / Geschmacksverlust

If your answer is "yes" to one or more of the following questions, then you are not allowed to attend the exam. If you provide a doctor's certificate to the examination office later on, the examination attempt will be canceled and will not count.

If you are unsure about any of these questions, please consult a doctor. If the doctor decides that you can safely take the exam, you will need to provide a certificate attesting this.

Viele Grüße
Euer Space Team

21.01.2021




Liebe Studierende,

We are planning to offer the pending re-exam for the Space Informatics lecture on Thursday, 18.02.2021. More precisely, the exam will be a written exam following the same general conditions as the final exam. Whether you are admitted to the... Read more

Liebe Studierende,

We are planning to offer the pending re-exam for the Space Informatics lecture on Thursday, 18.02.2021. More precisely, the exam will be a written exam following the same general conditions as the final exam. Whether you are admitted to the exam or not is displayed on your personal status page.

Since the pandemia is still dominating the situation, the hygienic and safety regulations originally in place for the final exam do hold unchanged for the re-exam. The important information on the procedure of the exam in the forum are being kept up-to-date. Please read this information carefully. It contains information which, if ignored, may result in you not being allowed to take the exam. You will have to register for the exam.

During some phases of the exam, wearing a face mask is mandatory. You must bring your own protective mask. If you cannot wear a mask for medical reasons, you will need a medical certificate and must wear a face shield instead. Details can also be found in the forum. More info follows.

Viele Grüße
Euer Space Team

04.12.2020




Liebe Studierende,

The results of the first exam and project 3 are now visible on your personal status page. The thresholds for passing the exam and for passing project 3 are 45 of 90, respectively 11 of 30 points. Furthermore, the dCMS shows the resulting grade... Read more

Liebe Studierende,

The results of the first exam and project 3 are now visible on your personal status page. The thresholds for passing the exam and for passing project 3 are 45 of 90, respectively 11 of 30 points. Furthermore, the dCMS shows the resulting grade which is calculated as the weighted sum of your exam (70%) and your project 3 (30%) results.

You will have the opportunity to inspect your exam. This will take place in person on campus, respecting the strict Corona Pandemic rules of Saarland University. The morning of Thursday, December 10 is reserved for this. Please write a message to @Assistants swiftly in case you want to inspect your exam. We will then make an individual appointment with you.

We will offer a re-exam, but not before January 2021. Please contact the @Assistants if this will cause you serious problems. Otherwise, please indicate your (not binding) interest by registering for "Re-Exam Interest" on your personal status page before Monday, December 14, at 08:59. We will use this headcount for further planning purposes.

Viele Grüße
Euer Space Team

02.11.2020




Liebe Studierende,

Tomorrow, on Tuesday, 3rd November, we will write the final exam as announced.

Please refer to the information in the forum.

In particular, please make sure you are aware that the exam will take place starting 14:05 in E2 5, HS I and that... Read more

Liebe Studierende,

Tomorrow, on Tuesday, 3rd November, we will write the final exam as announced.

Please refer to the information in the forum.

In particular, please make sure you are aware that the exam will take place starting 14:05 in E2 5, HS I and that you know your seat. You will find it on your personal status page. Also note that since 2nd November, wearing a face mask is mandatory at all university locations. Face coverings have to be worn both inside and outside the buildings and also during all in-person activities, i.e. during the whole examination.

We would also like to remind you again of the health questionnaire:

Did you have confirmed contact with a person that has tested positive for COVID-19 within the last 14 days?
Do you have any of the following symptoms?

Cough / Husten
Sore throat / Halsschmerzen
Nasal congestion / runny nose / Schnupfen
Diarrhoea / Durchfall
Fever / Fieber
Aches and pains / Gliederschmerzen
Loss of smell (e.g. no longer perceiving burnt food) / Geruchsverlust
Loss of taste (e.g. burnt food no longer differentiable) / Geschmacksverlust

If you answer one or more of these questions with "Yes", you will not be allowed to take part in the exam. If you later submit a medical certificate to the Examination Office, your registration for the exam will be cancelled and not counted as an attempt.

If you are unsure about any of these questions, please consult a doctor. If the doctor decides that you can safely take the exam, you will need to provide a certificate attesting this.

Viele Grüße
Euer Space Team

29.10.2020




Liebe Studierende,

Due to a double-booking, our exam on next Tuesday, 03.11., will take place in E2 5, HS I in the math building. Your seat is now visible on your personal status page.
If you believe that you incorrectly have not been assigned a seat, contact... Read more

Liebe Studierende,

Due to a double-booking, our exam on next Tuesday, 03.11., will take place in E2 5, HS I in the math building. Your seat is now visible on your personal status page.
If you believe that you incorrectly have not been assigned a seat, contact the @Assistants as soon as possible.

The exam will start at 14:15. Please be there at 14:05. Make sure that you have read the information in the forum.

Viele Grüße
Euer Space Team

23.10.2020




Liebe Studierende,

On Tuesday, 03.11.2020, we will write the final exam as announced. Whether or not you are admitted to the exam is now published on your personal status page.

This semester, there will be some differences due to the ongoing pandemic... Read more

Liebe Studierende,

On Tuesday, 03.11.2020, we will write the final exam as announced. Whether or not you are admitted to the exam is now published on your personal status page.

This semester, there will be some differences due to the ongoing pandemic situation. We have published important information on the procedure of the exam in the forum. Please read this information carefully. It contains information which, if ignored, may result in you not being allowed to take the exam.

During some phases of the exam, wearing a face mask is mandatory. You must bring your own protective mask. If you cannot wear a mask for medical reasons, you will need a medical certificate and must wear a face shield instead. Details can also be found in the forum.

Viele Grüße
Euer Space Team

22.10.2020




Liebe Infonauten,

Please consider participating in the International Space Hackathon ActInSpace scheduled for Nov 13/14, 2020.

More details are here https://actinspace.org/.

We are happily supporting your activity, and have set up a Forum section for this ... Read more

Liebe Infonauten,

Please consider participating in the International Space Hackathon ActInSpace scheduled for Nov 13/14, 2020.

More details are here https://actinspace.org/.

We are happily supporting your activity, and have set up a Forum section for this here.

Beste Grüße,
Euer Space Team

30.09.2020




Liebe Studierende,

This Friday at 2pm (sharp), we are going to jointly enjoy a guest lecture by Eduardo Cruz from GomSpace, Luxembourg. He will talk about the "Challenges of Scaling up Leo Satellite Operations to Constellations". Eduardo Cruz is the Country... Read more

Liebe Studierende,

This Friday at 2pm (sharp), we are going to jointly enjoy a guest lecture by Eduardo Cruz from GomSpace, Luxembourg. He will talk about the "Challenges of Scaling up Leo Satellite Operations to Constellations". Eduardo Cruz is the Country Business Manager of the Luxembourg Team and leads the Ground Segment.

The presentation will be held online using Zoom at the link below.

https://cs-uni-saarland-de.zoom.us/j/99286473894?pwd=MkFCLzFFa1ZvYnFJYnhVdExBbXdKdz09

Meeting ID: 992 8647 3894
Passcode: 650045

Do feel free to spread this information to your peers.

(For the students of the Space Informatics course: Yes, this guest lecture is relevant for the exam.)

Viele Grüße
Euer Space Team

21.09.2020




Liebe Studierende,

We are happy to announce that Project 3 has been released! It is available on the

Materials

page in dCMS.

The submission deadline is October 5th, 12:59.

All the information you need to be aware of are part of the project description,...

Read more

Liebe Studierende,

We are happy to announce that Project 3 has been released! It is available on the

Materials

page in dCMS.

The submission deadline is October 5th, 12:59.

All the information you need to be aware of are part of the project description, please make sure to read them carefully.

There is a number of preparations you need to take care of to complete this project. We strongly suggest to start early so the staff can assist you as soon as possible should you run into technical difficulties.

Viele Grüße,

Euer Space Team

18.09.2020




Liebe Studierende,

some of the lecture videos recorded in previous iterations of this module suffer from serious audiovisual glitches.
We have decided to move to a more conventional style of lecturing.

There will be live online lectures on

Liebe Studierende,

some of the lecture videos recorded in previous iterations of this module suffer from serious audiovisual glitches.
We have decided to move to a more conventional style of lecturing.

There will be live online lectures on

Tuesday, September 22nd at 2 PM (sharp)
Wednesday, September 23rd at 2 PM (sharp)
Friday, September 25th at 2 PM (sharp)

These lectures will be about 90 to 100 minutes long, possibly including a break.
The lectures will be hosted on zoom. The access details will be announced on the dedicated thread in the forum.

Other parts of the lecture material will be released in the form of prerecorded videos, as before.

The lecture on Tuesday will replace the Space Q&A planned at the same time, and will give particular opportunities to rediscus material from before.

Viele Grüße,
Holger Hermanns

14.09.2020




Liebe Studierende,

We are happy to announce that Project 2 has been released! It is available on the Materials page in dCMS.
The submission deadline is September 21, 09:59.
All the information you need to be aware of are part of the project description, please... Read more

Liebe Studierende,

We are happy to announce that Project 2 has been released! It is available on the Materials page in dCMS.
The submission deadline is September 21, 09:59.
All the information you need to be aware of are part of the project description, please make sure to read them carefully.

Viele Grüße,
Euer Space Team

13.09.2020




Liebe Studierende,

We are hearing that some students have issues validating their AGI account and therefore are delayed with working on the certification exercises of the first project. Unfortunately, the account validation is out of our zone of influence.

If... Read more

Liebe Studierende,

We are hearing that some students have issues validating their AGI account and therefore are delayed with working on the certification exercises of the first project. Unfortunately, the account validation is out of our zone of influence.

If you are affected by this problem, you can write me a message in the forum. In this mail, please also include the date/time at which you created your AGI account.

If you send me a message before tomorrow, September 14, at 11:59, we will grant you an extended deadline to submit the STK Level 1 Certification. The new deadline will be the same as for project 2, namely Monday, September 21, at 09:59.

We are very sorry for the inconvenience – which came unexpected.

Viele Grüße
Euer Space Team

08.09.2020




Liebe Studierende,

We have released the first Assignment Sheet. It is available on the Materials page in the dCMS.

The assignment sheets and projects are solved in groups of two students. Please find another student to work with. If necessary, you can use the... Read more

Liebe Studierende,

We have released the first Assignment Sheet. It is available on the Materials page in the dCMS.

The assignment sheets and projects are solved in groups of two students. Please find another student to work with. If necessary, you can use the partner market on our discussion board to find a partner.

After you found a team partner, one member has to create a new team on her Personal Status page while the other team partner has to join this team (also via the Personal Status page).
Please perform this step until Sunday, September 13, 23:59.

Viele Grüße
Euer Space Team

07.09.2020




Liebe Studierende,

Today (September 7, 2020) the first Space Informatics kick-off lecture will take place. We start at 14:15 and will present the organisational details of this year's course edition.

The lecture will take place here on Zoom. The passcode is... Read more

Liebe Studierende,

Today (September 7, 2020) the first Space Informatics kick-off lecture will take place. We start at 14:15 and will present the organisational details of this year's course edition.

The lecture will take place here on Zoom. The passcode is the postal code of Saarland Informatics Campus.

Furthermore, we have installed a Forum. Please note that we will not send a news for every live event we offer. Instead, we will post the details here in our forum. It is important that you activate your account.

We are looking forward to meeting you.

Viele Grüße
Euer Space Team

31.08.2020




Liebe Studierende,

Welcome to Space Informatics!

This news contains important information such as the planned course structure.

Schedule & Course Format

Our course is planned as a four week (full-time) block course from September 7 to October... Read more

Liebe Studierende,

Welcome to Space Informatics!

This news contains important information such as the planned course structure.

Schedule & Course Format

Our course is planned as a four week (full-time) block course from September 7 to October 2.

The lectures will mostly consist of recorded videos published in our dCMS. Whenever there are live lectures, they will be announced beforehand. Live lectures will be held in Zoom (and might or might not be recorded).
In addition, there will be live events called "Space Q&A". There, the lecturers will briefly recap the covered materials and then offer you the possibility to ask questions and initiate discussions. We will likely use Zoom for this, too.
To further support you in studying the course contents, there will be tutorials scheduled. This is the place where various tyes of exercises are discussed.
Weekdays without tutorials will instead feature office hours. There, you can reach out to our tutors and get help with exercises and the projects. Both, the tutorials and office hours, will take place on Discord.
The course comprises three practical projects. You will be allowed to work on these in groups of two students.

More details will be provided in the first introductory lecture on Monday, September 7, at 14:15. This live-event will take place on Zoom and will be announced in a separate news. Please have a look at the dCMS Calendar for an overview of the precise schedule.

Physical Presence on Campus?

It will be possible to attend the course (i.e. lectures and tutorials), and to be admitted to the final exam from remote. Note, however, that a written exam is scheduled to take place on campus. We are planning to have it in the first week of the upcoming lecture period, i.e. around November 3. The details are not fixed yet and will be discussed in the first introductory lecture.

Feel free to contact us if you have any more questions.

Viele Grüße
Euer Space Team
Show all
Space Informatics
A block course offered by the Chair of Dependable Systems and Software. It is worth 6 ECTS.
This course is planned to run as a block course from September 7 to October 2.
Mission
This block course will explore the computer science perspective of space applications, covering a spectrum from satellite operations to interplanetary communication.
Contents
We plan to cover the following topics: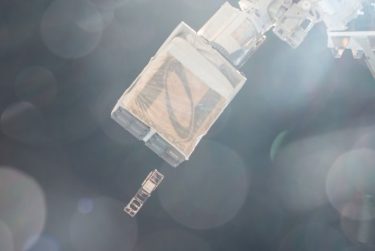 System Design

Orbit Dynamics
Launchers, Spacecrafts, Satellites, Space Stations
System Architecture, System Components

Communication

Transmission and Encoding Basics
Delay Tolerant Networking, Routing, Congestion, Contact Plans
Interplanetary Internet and beyond

Resource Managment

Power, Memory, Space, Time

Mission Planning and Operation

Telerobotics vs. Autonomy (vs. Human-Operated)
Classic Scheduling (Earliest-Deadline-First, Rate-Monotonic, etc.)
Task Graphs, Timed and Priced Timed Automata
Linear Pogramming (LP, ILP, MILP, Multi-commodity flow problems)
Satisfiability and Optimisation Modulo Theories

Applications

LEO vs. GEO Satellites, Space Missions
Exploration, Observation, Communication, Tourism

Challenges

Space Debris, Space Weather, Distances and Delays
Organisation
This course is offered by Holger Hermanns and Juan Fraire.
It takes place in summer 2020, running as a block course from September 7 to October 2.