News
26.09.2018




Liebe Studierende,

we are expecting a guest appearance of Kim Guldstrand Larsen, the man behind UPPAAL, tomorrow (September 27) during the morning session in our hall 001 of E1 3.

He will present the new functionalities of UPPAAL regarding statistical model... Read more

Liebe Studierende,

we are expecting a guest appearance of Kim Guldstrand Larsen, the man behind UPPAAL, tomorrow (September 27) during the morning session in our hall 001 of E1 3.

He will present the new functionalities of UPPAAL regarding statistical model checking for space applications.

See you,
Holger and Juan

21.09.2018




Liebe Studierende,

we are proud to present the guest lecture of Lars Alminde, CEO of GomSpace Luxembourg upcoming Tuesday (September 25) starting at 13:30 in our hall 001 of E1 3.

Title: GomSpace, new space needs new software?

Abstract: The talk will... Read more

Liebe Studierende,

we are proud to present the guest lecture of Lars Alminde, CEO of GomSpace Luxembourg upcoming Tuesday (September 25) starting at 13:30 in our hall 001 of E1 3.

Title: GomSpace, new space needs new software?

Abstract: The talk will present GomSpace as major player in the "New Space" revolution and focus on its recent new initiative in Luxembourg to start re-addressing how satellites, and especially future constellations, shall be operated in the future using state-of-the-art software technologies.

See you,
Holger and Juan
Space Informatics
The course is supported by
Analytical Graphics
with temporary full licenses of their
STK
software.
We start at 11:01 on Monday, September 17 in HS 001 of E1 3.
Mission
This block course will explore the computer science perspective of space applications, covering a spectrum from satellite operations to interplanetary communication.
Contents
We plan to cover the following topics: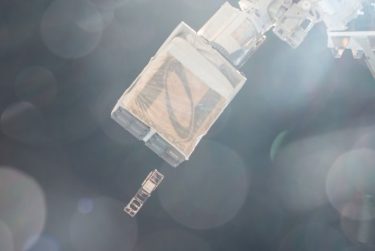 System Design

Orbit Dynamics
Launchers, Spacecrafts, Satellites, Space Stations
System Architecture, System Components

Communication

Transmission and Encoding Basics
Delay Tolerant Networking, Routing, Congestion, Contact Plans
Interplanetary Internet and beyond

Resource Managment

Power, Memory, Space,Time

Mission Planning and Operation

Telerobotics vs. Autonomy (vs. Human-Operated)
Classic Scheduling (Earliest-Deadline-First, Rate-Monotonic, etc)
Task Graphs, Timed and Priced Timed Automata
Linear Pogramming (LP, ILP, MILP, Multi-commodity flow problems)
Satisfiability and Optimization Modulo Theories

Applications

LEO vs. GEO Satellites, Space Missions
Exploration, Observation, Communication, Tourism

Challenges

Space Debris, Space Weather, Distances and Delays
Organisation
This course is offered by Holger Hermanns and Juan Fraire.
It takes place in summer 2018, running as a block course from September 17 to October 2.
In this period, weekdays are planned to adhere to the following structure:
09:30 - 10:45 : Tutorial
11:00 - 12:30 : Lecture
12:30 - 13:30 : Lunch break
13:30 - 15:00 : Lecture
15:15 - 16:45 : Tutorial/Practical work
The final exam will take place on October 15 at 10:00.
Lectures take place in hall 001 of E1 3.