News
09.07.2018

Liebe Studierende,

tomorrow (10.07.2018) the last lecture session of our seminar will take place. We will once again start at 8 AM sharp.

The session will feature two talks:

GEO Applications & GPS
Inside the ISS: Autonomous vs. Human-Operated… Read more

Liebe Studierende,

tomorrow (10.07.2018) the last lecture session of our seminar will take place. We will once again start at 8 AM sharp.

The session will feature two talks:

GEO Applications & GPS
Inside the ISS: Autonomous vs. Human-Operated Payloads

Beste Grüße,

Holger Hermanns & Gilles Nies

05.07.2018

Liebe Studierende,

our Saturday seminar session (7.7.2018) will start at 9:00.

We will have 4 lectures in the morning and 2 in the afternoon, with a lunch break at roughly 13:00.

As discussed, you will be able to order pizza for a flatrate of 5€, the… Read more

Liebe Studierende,

our Saturday seminar session (7.7.2018) will start at 9:00.

We will have 4 lectures in the morning and 2 in the afternoon, with a lunch break at roughly 13:00.

As discussed, you will be able to order pizza for a flatrate of 5€, the rest will be covered by the chair.
Please bring the money on Saturday.

We will order at Al Bacio.
In order to not unnecessarily stretch the lunch break, we need to place the order the day before,
so please send your order via email to Gilles before Friday (6.7.2018) 5 PM, otherwise you will be defaulted to a pizza Margherita.

Beste Grüße
Holger Hermanns & Gilles Nies

02.07.2018

Liebe Studierende,

Tomorrow (03.07.2018) the first session of our seminar will take place.
There will be two talks:

Launch & Trajectory Physics
System Verification


We will have to start early in order to fit two presentations into the… Read more

Liebe Studierende,

Tomorrow (03.07.2018) the first session of our seminar will take place.
There will be two talks:

Launch & Trajectory Physics
System Verification


We will have to start early in order to fit two presentations into the slot, which means we will start *at 8 AM sharp*.
The session will take place in room 528 in E1.3, as always.

Best,
Holger Hermanns & Gilles Nies

13.06.2018

Liebe Teilnehmende,

As announced in the kick-off meeting we'd like to see your slides before you give your lecture. The submission deadlines are as follows:

| Lecture on | Slide Submission deadline |
| --- | --- |
| July 3 | June… Read more |

Liebe Teilnehmende,

As announced in the kick-off meeting we'd like to see your slides before you give your lecture. The submission deadlines are as follows:

| Lecture on | Slide Submission deadline |
| --- | --- |
| July 3 | June 25 |
| July 7 | June 29 |
| July 10 | July 2 |

You will be able to submit your slides using the dCMS. Note that on-time submission is a requirement for successful participation in the seminar.

Best,
Holger Hermanns & Gilles Nies

06.06.2018

Liebe Teilnehmende,

The next meeting will be on upcoming Tuesday (June 12) at 08:30 sharp, in 528 of E 1.3. The session will feature the extension of timed automata to priced timed automata as well as a small survey on battery models and their role in… Read more

Liebe Teilnehmende,

The next meeting will be on upcoming Tuesday (June 12) at 08:30 sharp, in 528 of E 1.3. The session will feature the extension of timed automata to priced timed automata as well as a small survey on battery models and their role in battery-aware mission planning.

In addition we will fix the schedule for the lectures you are in the midst of preparing.

Best,
Holger Hermanns & Gilles Nies

22.05.2018

Liebe Teilnehmende,

thank you for your patience.

You should all have been assigned a topic, and we expect you to look around for matching contents yourself for now. We are ready to help in case you are lost.

We are having a meeting on upcoming Tuesday… Read more

Liebe Teilnehmende,

thank you for your patience.

You should all have been assigned a topic, and we expect you to look around for matching contents yourself for now. We are ready to help in case you are lost.

We are having a meeting on upcoming Tuesday (May 29) at 08:30 (sharp, sorry) in 528 of E13. There will be a presnetation on timed automata and their role in mission planning. In addition we will have a quick round of status updates, and will refine our time schedule regarding future events.

Gruss, bis dann,
H Hermanns
Show all
Bits in Space
Mission
This "Seminar" will explore the computer science perspective of space application, covering a spectrum from satellite operations to interplanetary communication.
Contents
We plan to cover the following topics: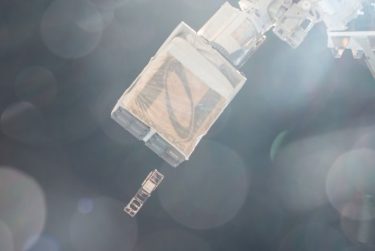 System Design

Orbit Dynamics
Launchers, Spacecrafts, Satellites, Space Stations
System Architecture, System Components

Communication

Transmission and Encoding Basics
Delay Tolerant Networking, Routing, Congestion, Contact Plans
Interplanetary Internet and beyond

Resource Managment

Power, Memory, Space,Time

Mission Planning and Operation

Telerobotics vs. Autonomy (vs. Human-Operated)
Classic Scheduling (Earliest-Deadline-First, Rate-Monotonic, etc)
Task Graphs, Timed and Priced Timed Automata
Linear Pogramming (LP, ILP, MILP, Multi-commodity flow problems)
Satisfiability and Optimization Modulo Theories

Applications

LEO vs. GEO Satellites, Space Missions
Exploration, Observation, Communication, Tourism

Challenges

Space Debris, Space Weather, Distances and Delays
Organisation
This "Seminar" is offered by Holger Hermanns, assisted by Gilles Nies and other members of the team. It takes place in the summer term 2018.