News
30.10.2019




Liebe Studierende,

You can now see the results of the first exam and project 3 on your personal status page.
Furthermore, the dCMS shows your course grade which is calculated as the weighted sum of your exam grade (70%) and your grade on project 3 (30%).

The... Read more

Liebe Studierende,

You can now see the results of the first exam and project 3 on your personal status page.
Furthermore, the dCMS shows your course grade which is calculated as the weighted sum of your exam grade (70%) and your grade on project 3 (30%).

The exam inspection will take place on Monday, November 4th, from 9:30 to 10:30 in room 528, E1 3.

There will be a re-exam in late November / December. It might be oral depending on how many of you decide to take it. Please indicate your interest by registering for it in the dCMS before Monday, 11th November, at 08:59.

Viele Grüße
Gregory

08.10.2019




Liebe Studierende,

We just released the passing status of project 3 so that you know whether you are admitted to the exam. You can see it on your personal status page.
As you may remember, project 3 is a graded project. The grades will be published at a later... Read more

Liebe Studierende,

We just released the passing status of project 3 so that you know whether you are admitted to the exam. You can see it on your personal status page.
As you may remember, project 3 is a graded project. The grades will be published at a later stage.

Viele Grüße
Gregory

06.10.2019




Liebe Studierende,

Here are some important informations about the final exam:

The final exam takes place on Monday, October 14, in lecture hall 002 of E1 3.
The exam duration is 60 minutes. We start at 10:30. Please be there at 10:15 to avoid any... Read more

Liebe Studierende,

Here are some important informations about the final exam:

The final exam takes place on Monday, October 14, in lecture hall 002 of E1 3.
The exam duration is 60 minutes. We start at 10:30. Please be there at 10:15 to avoid any delays.
Make sure that you registered for the exam before Monday, October 7, e.g. via the LSF or your respective examination office.
You are allowed to bring a cheat sheet (A4, double-sided, handwritten) to the exam. Further utilities, e.g. calculators, are not allowed nor needed.
Don't forget to bring an ID card or other official identification document.
There will be a re-exam in November / December.

Good Luck!

Gregory

25.09.2019




Liebe Studierende,

we have extended the exercise sheet in the materials section of the dCMS to cover the second week of lectures. Remember that you have to present your solutions to the exercises in the tutorials at least once during this course. Please make sure... Read more

Liebe Studierende,

we have extended the exercise sheet in the materials section of the dCMS to cover the second week of lectures. Remember that you have to present your solutions to the exercises in the tutorials at least once during this course. Please make sure that you download the latest version (rev 6).
Further, please select one exercise that you want to present next week by filling out this doodle.
Note that the survey is anonymous which means that you cannot see or change your selection after submitting. Please make sure to submit the form only once.

Unfortunately, there was a small bug in the argument parsing of the project 3 skeleton. Please pull the bugfix into your workspace or recreate the changes by hand.

As a final note, remember to register for the exam before 7th October, e.g. via the LSF or your respective examination office.

Viele Grüße
Gregory

24.09.2019




Liebe Studierende,

The strike of our local bus drivers presumably continues tomorrow. Be prepared that there might be no bus service at all.

Furthermore, we are going to have the guest lecture by Dr. Anthony Milligan from Kings College, London, about the ethics of space exploration.
It will take place tomorrow at 2pm in the Günter Hotz lecture hall (building E2 2), and we will join the people from the Ethics for Nerds lecture.
This guest lecture is relevant for the exam.

Viele Grüße
Gregory

24.09.2019




Liebe Studierende,

Yesterday evening we released the third and last project description. The submission deadline is Sunday, 6th October at 23:59.
Note that you are once again allowed to work in groups of two as stated in the task description and that this... Read more

Liebe Studierende,

Yesterday evening we released the third and last project description. The submission deadline is Sunday, 6th October at 23:59.
Note that you are once again allowed to work in groups of two as stated in the task description and that this project will count towards your final grade.

Viele Grüße
Gregory

14.09.2019




Liebe Studierende,

This is a brief overview and reminder of the recent events.

Project 1

The submission of project 1 is still possible until next Monday, 16th September at 9:59. Remember to fulfil all necessary tasks as written in the project description... Read more

Liebe Studierende,

This is a brief overview and reminder of the recent events.

Project 1

The submission of project 1 is still possible until next Monday, 16th September at 9:59. Remember to fulfil all necessary tasks as written in the project description (e-mail to AGI with me in copy, dCMS submission). Do not forget to forward us your STK Certificate when AGI assessed your submission. There is a separate deadline for that: 30th September at 23:59.

Project 2

The second project description was published yesterday afternoon. The submission deadline is Monday, 23rd September at 9:59. Note, that you are allowed to work in groups of two as stated in the task description.

Plan for Week 2

There will be no lectures next week. Instead, tutorials will take place from Monday to Wednesday (see the calendar for details). There, we will discuss the solutions to the theoretical exercises that you prepare to present yourself according to the Doodle. At the end of each tutorial, there will be a small quiz on the lecture content of week 1 where you need to score at least 50% of the total points over the whole course.

Viele Grüße
Gregory

11.09.2019




Liebe Studierende,

we have uploaded the first exercise sheet to the materials section of the dCMS. Remember that you have to present your solutions to the exercises in the tutorials at least once during this course. Please make sure that you download the latest... Read more

Liebe Studierende,

we have uploaded the first exercise sheet to the materials section of the dCMS. Remember that you have to present your solutions to the exercises in the tutorials at least once during this course. Please make sure that you download the latest version (rev 3).
Further, please select one exercise that you want to present next week by filling out this doodle.
Note that the survey is anonymous which means that you cannot see or change your selection after submitting. Please make sure to submit the form only once.

Besides, we offer a discussion platform where you can discuss questions with your fellow students. You can access it by clicking on "Forum" in the dCMS.

Viele Grüße
Gregory
Show all
Space Informatics
We tentatively start at 11:01 on Monday, September 9 in HS 001 of E1 3.
Mission
This block course will explore the computer science perspective of space applications, covering a spectrum from satellite operations to interplanetary communication.
Contents
We plan to cover the following topics: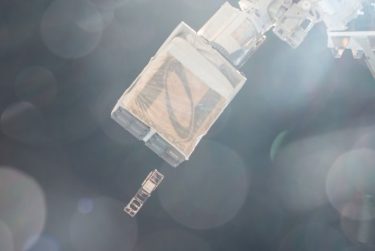 System Design

Orbit Dynamics
Launchers, Spacecrafts, Satellites, Space Stations
System Architecture, System Components

Communication

Transmission and Encoding Basics
Delay Tolerant Networking, Routing, Congestion, Contact Plans
Interplanetary Internet and beyond

Resource Managment

Power, Memory, Space, Time

Mission Planning and Operation

Telerobotics vs. Autonomy (vs. Human-Operated)
Classic Scheduling (Earliest-Deadline-First, Rate-Monotonic, etc.)
Task Graphs, Timed and Priced Timed Automata
Linear Pogramming (LP, ILP, MILP, Multi-commodity flow problems)
Satisfiability and Optimisation Modulo Theories

Applications

LEO vs. GEO Satellites, Space Missions
Exploration, Observation, Communication, Tourism

Challenges

Space Debris, Space Weather, Distances and Delays
Organisation
This course is offered by Holger Hermanns and Juan Fraire.
It takes place in summer 2019, running as a block course from September 9 to October 4.
In this period, half of the weekdays, tentatively September 9 - 13 and September 23 - 27, adhere to the following structure:
11:00 - 12:30 : Lecture
12:30 - 13:30 : Lunch break
13:30 - 15:00 : Lecture
15:15 - 16:45 : Tutorial/Office Hours
The other weeks, tentatively September 16 - 20 and September 30 - October 4, will be spanned with intensive self-study periods, tutorials, and office hours.
A final exam on October 14 concludes the module.
Lectures take place in hall 001 of E1 3.